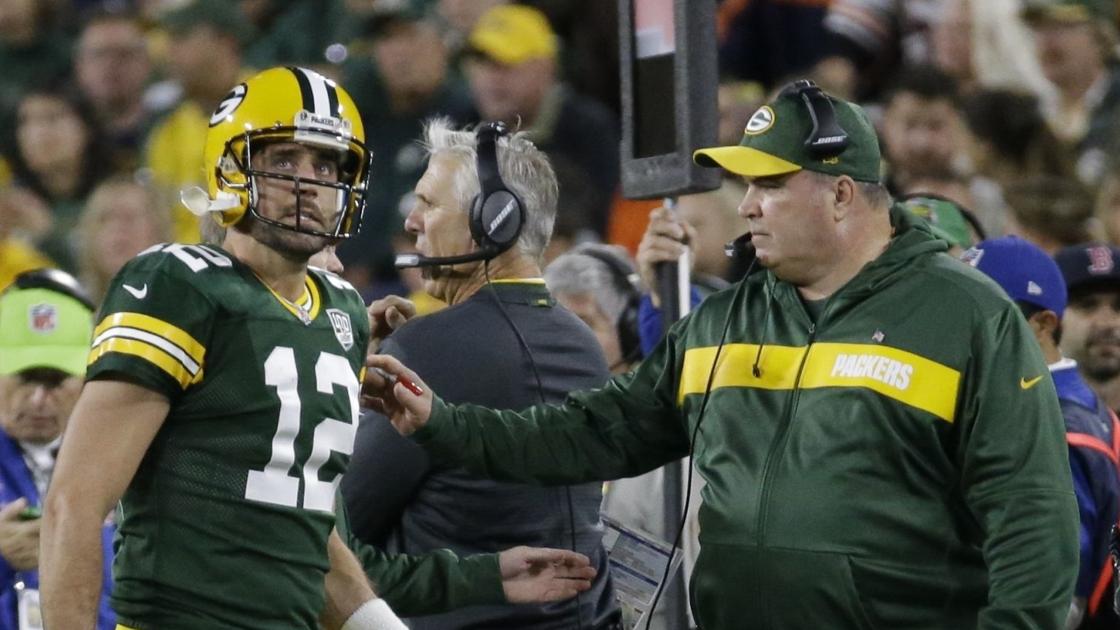 1. GET GRAHAM GOING
When the Packers signed five-time Pro Bowl tight end Jimmy Graham to a three-year, $30 million deal – and did so at the expense of popular veteran wide receiver Jordy Nelson, who was released almost simultaneously – they surely were expecting more than the two receptions for 8 yards on four targets that they got in last week's comeback win over Chicago.
Offensive coordinator Joe Philbin chalked it up to the Bears defense committing to disrupting Graham at the line of scrimmage by whacking him at the time of the snap to throw off his timing and force quarterback Aaron Rodgers, who was certainly getting the ball out quickly during the team's second-half rally, to go elsewhere with the ball.
"They were certainly tuned into his release at the line of scrimmage, trying to get hands on him, whether it was the defensive end, an outside linebacker, those type of things," Philbin explained. "But … I'm sure he's going to get his share."
For his part, Rodgers said there was no reason to worry, either – and said the attention helped wide receivers Randall Cobb, Davante Adams and Geronimo Allison to be more productive.
"(Graham) was facing a lot of double teams, whether there's a guy on him and a guy over the top, or if it's just a true cloud to his side. So what that does is open it up for everybody else," Rodgers said. "You saw Randall had a big game, a lot of catches. Davante got going into the second half, Geronimo had a big game. So teams are going to have to figure out how to play him down the field, and also how to play him in the red zone.
"Obviously, he's a big threat. You've got to get him more opportunities out in the field, but when you're going to roll coverage to him in the red zone, other guys are going to be open. He's a fantastic player, and at some point he's going to get a lot of opportunities."
2. YOUTH IS SERVED
Defensive coordinator Mike Pettine was asked at midweek if he was philosophically opposed to playing rookies right away.
"If they can't play, I'm very averse to playing them," Pettine replied with a smirk. "If they can play, especially the way the league is now … we're not a farm team. Guys have to play now."
That would explain why Pettine, who used five-, six- and even seven-defensive back packages extensively against the Bears, didn't shy away from playing his two rookie cornerbacks: First-round pick Jaire Alexander (49 of 70 snaps, 70 percent) and second-round pick Josh Jackson (46 snaps, 66 percent) both played extensively, while veteran Davon House didn't play at all on defense. Alexander gave up a 33-yard completion to wide receiver Allen Robinson but other than that, both players more than held their own.
"Certainly our two pups on the back end, they both, from the beginning, jumped right in. It's never been too big for them," Pettine said. "They ask the right questions, which is very encouraging. They love football and they compete. I think that showed up in the game. That was the only question we had left – they competed in the preseason, they do it in practice – will they blink when the lights were on? Obviously, we all got that answer."
3. PROTECTION RACKET
Right tackle Bryan Bulaga, seeing his first meaningful action since last year's season-ending knee injury, struggled early on last week against new Bears' defensive star Khalil Mack, and new starting right guard Justin McCray had a tough go (two holding penalties, one sack allowed) early as well. But both players settled in during the second half, and coupled with Rodgers getting the ball out more quickly to protect his injured left knee, the Bears' pass rush was largely a non-factor thereafter.
Some of the issues might've been chalked up to the five linemen not seeing any action together as a unit in preseason. But entering their second game against a defense that was the best in the NFL a year ago – and with the situation at quarterback as it is – they can't afford another slow start.
"We have to take what we did in that second half against a really good defense and, going into another really good defense, we have to be ready to go. There's no dropoff from the Bears defense to the Vikings defense. They're both very, very good. So we have to be ready to go," Bulaga said. "I think regardless of (Rodgers') mobility, we always feel the same way. If he's not able to move the way he normally does, we've blocked for him when he's been hurt before. It's just a matter of getting him a platform to step up into and a pocket where he feels comfortable and time."
---
Jason Wilde covers the Packers for ESPN Wisconsin. Listen to him with former Packers and Badgers offensive lineman Mark Tauscher weekdays from 9-11 on "Wilde & Tausch" on 100.5 FM ESPN Madison.